Grammar's Never Been so Sweet!
G.U.M. Drops teaches Grammar, Usage, and Mechanics by having students edit passages from classic literature.
Editing is a valuable skill for children to learn, both as a stand alone skill and to help them become better writers themselves.
Good writers are also frequently those students who actively read good writing.
About The Author
Melissa Schneider was homeschooled through high school and always enjoyed both reading and English/grammar…
Read Reviews

"These workbooks are almost like candy for my son – he loves them!"

Free Samples!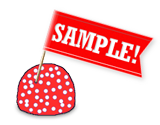 Download free sample pages from any of the seven books!