About the GUM Drops Series
G.U.M. Drops! …as in Grammar, Usage, and Mechanics practice presented through short daily doses of editing practice! Editing is a valuable skill for children to learn, both as a stand alone skill and to help them become better writers themselves. Good writers are also frequently those students who actively read good writing.
This series combines these two elements by focusing students on editing passages from classic literature, covering grade appropriate concepts in grammar, usage, and mechanics at each level. To ensure that students are not editing above their skill level, the books present worksheets covering each rule or concept before the student is expected to edit for it.
For example, the first page may cover complete sentences, and then the next page offers students a passage to edit which contains both complete sentences and sentence fragments. At least three out of every five pages are editing passages, as this remains the focus.
Worksheets in the back of the book switch to various language and usage concepts after the rules have been covered. In this way, the workbooks progress through age-appropriate concepts, continually building on previous skills and increasing in difficulty. As mentioned, the focus of the workbooks is on the actual editing passages.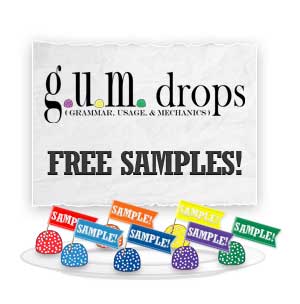 Because the original works are often too advanced in vocabulary or do not follow the same rules as modern English, the excerpts included in these workbooks are not from the orignal books. Rather, the passages in the first three books have been taken from the EDCON Classic Worktext series, adaptations of the classics written specifically for younger grade levels, yet retaining the original flavor of the books.
The later four books include passages especially rewritten for students, summarizing the entire story into a series of shorter passages to be edited. Students not only get editing practice, they are also familiarized with a variety of classic works.
The?G.U.M.drops?series is useful for a light introduction to English and grammar for younger grades, or as a refresher or daily review for any grade to supplement any curriculum. Teacher pages are included in the back of each book.
Need Help?
Have questions about GUM Drops?or teaching English?to your children? Contact one of Rainbow Resource's friendly Homeschool Consultants?(weekdays from 9am to 5pm Central):